Angela Sofia Sterzer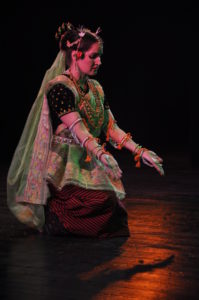 Danseuse, chorégraphe et directrice artistique de la Cie Ladansequichante, Angela a dédié sa vie à la danse manipuri. Elle est officiellement reconnue en tant que soliste de la danse manipuri par le ICCR (Conseil indien pour les Relations Culturelles), l'instance officielle du gouvernement indien.
Comment expliquer l'inexplicable ? Peut-être avec une simple phrase de Tiken Singh, directeur du PAL à Imphal sur Angela Sofia Sterzer : « Sa danse exprime l'âme du Manipur. »
Parmi les très grands styles de danse classique indienne, la danse manipuri est le seul « living art », le seul style qui, jusqu'à nos jours, fait partie intégrante d'une culture vivante ancrée dans la vie quotidienne et cérémonielle d'un peuple.
D'une beauté rare, ce style vient de l'Etat indien Manipur (« the jewelled land »), une vallée isolée dans la montagne, située au nord-est de l'Inde, face à l'Himalaya. Avec ses mouvements fluides et gracieux, la danse manipuri semble très libre, spontanée et simple. Toutefois, derrière se cachent des rythmes très élaborés et une grande précision. La tête, les mains et les pieds forment un mouvement en parfaite harmonie. Chaque geste est l'expression d'une grâce intérieure.
Disciple de Jatindra K. Singh et Sunita Devi, initiée par les plus grands maîtres de la danse manipuri, comme Ibemubi Dévi, résultat d'un échange artistique et humain de longue date, Angela Sofia Sterzer a été invitée en 2012 au Festival of Classical Manipuri Solo Dance, l'un des deux plus grands festivals de danse manipuri en Inde. Appelée par le Tripura Observer « The Embassador of Manipuri Dance », elle a présenté en 2014 avec Manju Elangbam et les musiciens du prestigieux Laboratoire des Arts à Imphal (PAL) un autre spectacle de danse classique indienne inédit à l'auditorium du Musée national des arts asiatiques-Guimée à Paris, salué par Marc Manguy, ancien ambassadeur de France en Inde, en la remerciant de « faire connaître cette danse unique qui apporte une nouvelle dimension de la danse indienne dans le monde ».
Animée depuis toujours par un esprit de recherche et l'envie de faire dialoguer et de construire des passerelles entre la danse et la musique, entre la danse classique indienne et la danse contemporaine, Angela Sofia Sterzer a créé de nombreuses pièces qui témoignent de ces rencontres artistiques tout à fait uniques : « The Depth of Beauty »,  « Ibethoi », « Mira », Nightrose » et récemment « L'Oiseau de feu indien » : une chorégraphie pour 15 danseurs et musiciens du PAL à Imphal. Et c'est Pierre Boulez qui avait donné son accord pour transformer une partie de sa musique de Stravinsky en berceuse, chantée par les danseuses manipuri.
Festival of classical Manipuri Solo Dance ( Manipuri State Kala Akademi ) Imphal Manipur
Radha Abishar , chorégraphie: J.K. Singh, direction musicale : N.Tiken Singh
How to explain? Perhaps with some words of Tiken Singh, director of the Manipuri Troup PAL in Imphal, about Angela Sofia Sterzer: « Her dance reflects the spirit of Manipur. »
Manipuri dance is the only « living art form » among all the Indian classical dance styles. Up until today dance and music are an integrated part of the daily life and the ceremonies of the people of Manipur.
With a rare beauty, this classical Indian dance style comes from the Indian State Manipur (« The jewelled land »), situated in a valley, isolated, surrounded by mountains, in the northeast of India. With its flowing, graceful and undulating spiral movements, every little gesture expresses an inner grace. The head, the hands and the feet build a perfect harmony.
Behind the fluent character of Manipuri Dance we can find excellent elaborated rhythms with great precision and the work of » micro movements ». This specific quality of the fluidity distinguishes Manipuri dance from the other Indian Classical Dance Styles.
Disciple of Jatindra K.Singh and Sunita Devi, instructed by the most important masters of Manipuri Dance, like Ibemubi Devi, a result of artistic and human exchanges for many years, Angela Sofia Sterzer was invited in 2012 to the Festival of Classical Manipuri Solo Dance, one of the most important festivals of Manipuri Dance in India. The Tripura Observer called her already in 2010 « The Ambassador of Manipuri Dance ». In 2014 she presented with Manju Elangbam and the musicians of PAL (Progressive Artist Laboratory) another classical manipuri dance performance, in a new artistic form at the Auditorium of the National Museum of Asian ART- Guimet in Paris, saluted by Marc Manguy, ancient ambassador of France in India, "to spread this unique dance which gives a new dimension to the Indian dance in the world. »
Motivated for a long time by the need and desire to construct links between dance and music, Indian classical dance and contemporary dance, Angela Sofia Sterzer has created many works which show these unique artistic fusions: « Beauty and Depth », « Ibethoi », « Mira », Night rose », and recently « The Firebird »: a choreography for 15 dancers and musicians of PAL at Imphal. And it is Pierre Boulez who gave his permission to transform one part of the music of I. Stravinsky, the lullaby, which was sung by the Manipuri Dancers.